Build Strong Customer Engagement With Salesforce Marketing Cloud
TernEdge is the best Salesforce Marketing Cloud implementers. The Salesforce Marketing Cloud is helping businesses around the globe build stronger relationships with customers by delivering real-time customer engagement at scale through highly personalized interactions across every channel—mobile, social, email, apps, and more.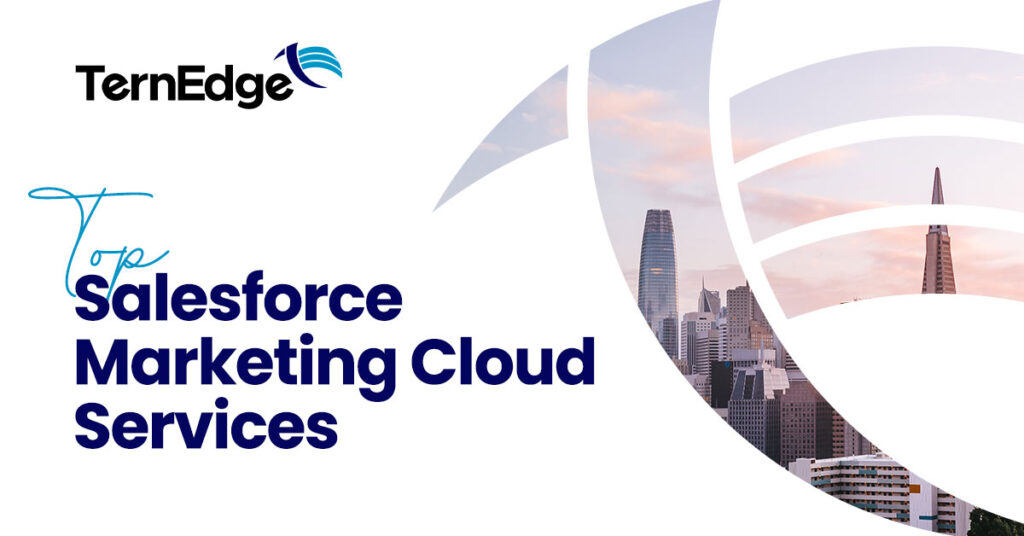 Best

Salesforce Marketing Cloud

Implementers
Salesforce Marketing Cloud implementation service, offered by TernEdge, is an integrated marketing platform built specifically for marketers. It offers powerful features to help you plan, execute, optimize, measure and analyze every aspect of your digital marketing programs across channels. You get everything you need under one roof without the required coding or IT skills. Our Salesforce Marketing Cloud provides a comprehensive set of tools that enable organizations to drive more website traffic, increase conversion rates and improve lead gen through email, social media and mobile platforms. This includes content creation, automation, personalization, analytics, search engine optimization (SEO), landing page creation, web forms, e-newsletters, and customer relationship management (CRM) solutions.
With Salesforce Marketing Cloud, every customer interaction becomes part of one complete customer journey—from start to finish. That means marketing teams can deliver relevant content at the right time, through any channel, driving increased response rates and repeat purchases. As a result, companies can get closer to customers by understanding what they care about, where they spend time online, how they shop and who influences them. Salesforce Marketing Cloud is a powerful tool that allows you to build personalized campaigns, track performance, and measure ROI. This platform allows a company to reach out to prospects and customers via email, mobile apps, social media, and web forms. They can even set up automated drip campaigns based on triggers such as leads coming into sales, events, and lead scoring changes.
When we say TernEdge is the best Salesforce Marketing Cloud implementers we really mean it! Our service includes several tools that help you understand your audience and offer them exactly what they want. These include Content Builder, Dynamic Tags, Email Studio, Lead Management, Campaign Manager, Analytics, and Social Media Ads. These features work together to provide a complete view of your customers' behaviour across channels and devices.
TernEdge has built four base versions of this, each with different levels of functionalities and multiple additional add-ons. Each version provides specific features tailored toward specific needs, such as email, social media, mobile app, landing page builder, lead management, analytics, etc. In addition to the base versions, Salesforce Marketing Cloud offers additional at-cost components, including AppExchange, Data Studio, Flow, Journey Builder, Live-Agent, Service Cloud, Targeted Email, and Workflow. These additional modules further enhance the capabilities of the platform. Salesforce Marketing Cloud offers features for sales, such as lead management, account management, deal creation, pipeline tracking and reporting. These are integrated into one system, making it easy to manage everything from a single dashboard.
Related Service: Salesforce Sales Cloud

C'mon!

Break the silence
We welcome all because we love to hear. Get in touch while scrolling our website and untangle your queries and thoughts. So, hurry up and learn how we can facilitate you!